- Trees from the final end of runway 27 removed
- 27 and 09 REIL and 09 approach flashing system added.


UPDATE 2: DOWNLOAD (Only if you have the problem)

- For those who can see "flickering textures" in the apron (you can see the video in the subpost where the problem has been solved) , or for those in which BiarritzV2 addon disappear animated vehicles.
              Replace anim1, anim2 and anim4 (Simzaleak/BiarritzV2/scenery) with the files attached.
---
Last edited by Admin on Tue Apr 26, 2016 4:47 am; edited 2 times in total
Hi everybody,
Just for info, I post a request on the AES forum few times.......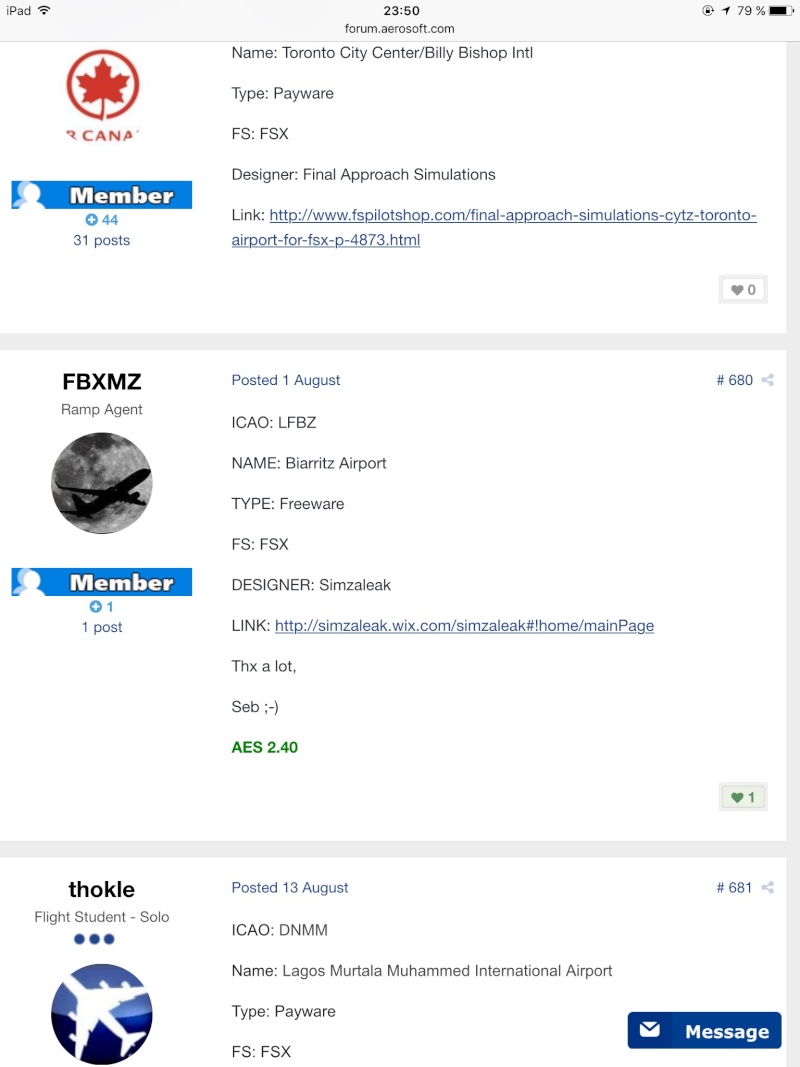 And in the new release for free........
So enjoy;-)
Seb from Biarritz



Posts

: 1


Join date

: 2015-07-22



Hello FBXMZ,

Thank you very much for sharing this important information, it is very appreciated. And of course for requesting simzaleak airports to be compatible with AES.

Thank you,

Gontzal
Is the V2 compatible with AES too?



Posts

: 8


Join date

: 2015-10-09



Hello Djembe.

I do not really know as I didn't have the chance to try it and I don't know how does it work internally. I can only say that, unless the apron layout didn't change, the parking numbers and distribution did change. Maybe a user who tried it can resolve us the doubt. 

Thank you very much!

Gontzal
Hola Gontzal.
Efectivamente funciona con AES.
Muchas gracias!

Robert





Posts

: 8


Join date

: 2015-10-09



Hola Djembe,

Perfecto, gracias por confirmarlo!

Note: The Airport of Biarritz V2 is also compatible with AES.




Gontzal
Hola buenas tardes.

Cuando estoy en la aproximación final a la pista 27 veces antes de llegar a la pista y con las normas internacionales del trabajo activo, el avión entra en una caída precipitada. ¿Me puede decir dónde está el error? O ha sido reportado ninguna anormalidad con la aproximación ILS a 27?

Me FSX Steam Ediation - Biarritz V2

Gracias por la ayuda.

João Carvalho



Posts

: 1


Join date

: 2016-04-06



Olá Sr. Carvalho,

La verdad es que no se cual puede ser el problema aunque es probable que sea algo relacionado con algún error de la altitud del terreno (flaten). En mi sistema no tengo problemas ni en FSX ni tampoco en P3D (no tengo FSX Steam Edition). ¿Ocurre con todos los aviones?

Si alguien reporta el mismo problema y la solución, lo colocaré en el foro.

Un saludo.

Gontzal


Similar topics
---
Permissions in this forum:
You
cannot
reply to topics in this forum